My Cordial Address:
Kishi Universe inc. was founded as the professional group specializing in Jeaning Casual Apparel on February 1, 2007 (Heisei 19). With three decades of my original experiences as one of salaried workers in the Jeans industry, I have been a corporate business executive only for seven years, and some may observe I am a beardless novice; yet I feel I could be a business executive who understand how salaried workers feel, and I would be the one who leads to accomplish our business.
As the Jeans industry (denim business) seems stagnated at present, jeans and denim wear are front‐and‐center of the casual wear. So, I am determined to continue and seek for the Jeaning Casual Apparel with confidence.
Kishi Universe inc. has been working hard and intense in collaboration with the selected and excellent trade connections to create jeans under OEM and ODM consignments until today, and from now on we are planning to shift in top gear to the stage of branding. We have been keeping up "Win‐Win‐Win" relations among suppliers, factories, logistics, and our clients in the battlefield of products value vs. production cost.
We will be celebrating our tenth anniversary this year: We think the new fiscal year is the one to make a milestone, shifting to the second stage. In other words, we feel in desperate need of yielding fruits by taking steps forward and evolving our business toward the Branding from the existing OEM/ODM business. We are determined to make utmost efforts to make our company perfected enough to satisfy all of our stakeholders.
It may sound presumptuous, however, I would like to take this opportunity to explain my philosophies as below:
1. My mission as a corporate executive is "to make Kishi Universe inc. the best one."
2. My belief is "any employee who is happy to work hard can make his company grow."
3. Our company's goal is to become an "excellent but ordinary" company who would reflect SONY in some decades ago at a cradle stage where everybody is dynamic and future‐oriented as well as an "ordinary company" who knows what we are and what to do.
4. Our business philosophies are:
1) "Selection and concentration" is indispensable.
2) Work, process, and concept should be "simple" and "speed" is needed.
3) Above all, educating employees and developing human resources are
most essential for the growth of our company. (Especially, business education and human education)
4) "Team power" and "good communication" are essential within and outside our company.
Our management principles are:
1) The primary principle is to make each employee happy. (ES: Employee Satisfaction)
2) The secondary principle is to make our customers happy, since good products and best services can be provided upon our employees'satisfaction. (CS: Customer Satisfaction)
3) Our company business is based on the customers, and we can yield earnings. Then, we can pay tax and give back to our communities. The third principle is to make social contributions. (SS: Social Satisfaction)
6. Corporate Identities (Behavior standard and philosophies to actualize our management principles)
1) Openness (Transparency, honesty)
2) Fairness(Fair‐mindedness)
3) Freedom (Self‐initiative)
February 1,2016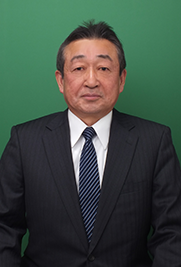 CEO
Yugo Kishimoto